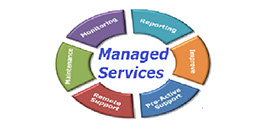 Businesses of all sizes are increasingly dependent on a rapidly expanding portfolio of technology these days. Networks, computers, email, software, websites, phone systems, tablets, mobile devices - the list goes on and on. You need to make wise technology investments and then optimize their effectiveness with comprehensive management and support. And it's not just the systems, these are used by real people who encounter legitimate obstacles and need responsive support when they do.
The spectrum of knowledge and experience required to make smart decisions and keep your systems optimized is both broad and deep. Acquiring the internal talent needed to pull it all off is daunting and expensive. IT salaries are skyrocketing and turnover in small and mid-sized enterprises is high. If you are lucky enough to acquire everything you need, the challenge quickly becomes "how do I hold on to it?".
Managed Services programs from BNC consulting overcome these challenges and then some. For a fraction of what it costs you to build your own IT team, you can have a turnkey IT Department providing everything from solid strategic advice, to systems optimization to providing end user support. All built and based on industry best practices and using the most powerful management tools.
Maybe you have an investment in personnel already but you're looking to round out your capabilities, support their efforts and allow them to focus on the most critical components of your business. We can help there too. Our Co-Managed model works around your existing team, all while bringing you the leadership, experience and resources of a professional IT Team.